The Fourth Cambodia ICT and Digital Forum: Dialogue on the Digital Development
The rapid growth of the digital technology sector shows promise to change Cambodian livelihoods. New technological concepts and tools have been developed and become a global trend in recent years. Artificial Intelligence (AI), machine learning, chatbots, and other breakthrough digital inventions are seeing increasing use in daily life. These tools can be used for processing legal documents, research, responding to messages, and more. Besides Cambodian citizens' quick adaptation, Cambodia's government has encouraged its institutions to utilize available digital resources to improve its public service delivery. In line with the government's Digital Economy and Society Framework 2022-2035, some government ministries have been adapting and utilizing the Chat Generative Pre-Trained Transformer (ChatGPT) to facilitate their work and maximize the results. The benefits of these new opportunities and the challenges of using these digital inventions for Cambodians have rarely been discussed in detail. The growth of these new tools illuminates additional issues, including licensing and copyrights, digital security and safety, and online ethics.
Open Development Cambodia (ODC) organized the Fourth Cambodia ICT and Digital Forum (CamIDF) in Phnom Penh on 15 May 2023, with 44 participants: CamIDF members, Cambodia ICT Camp alums, researchers, journalists, digital nomads, civil society organizations, start-ups, private sector, and university students. The Forum discussed the opportunities and challenges caused by AI and ChatGPT, Digital Identities, and other topics.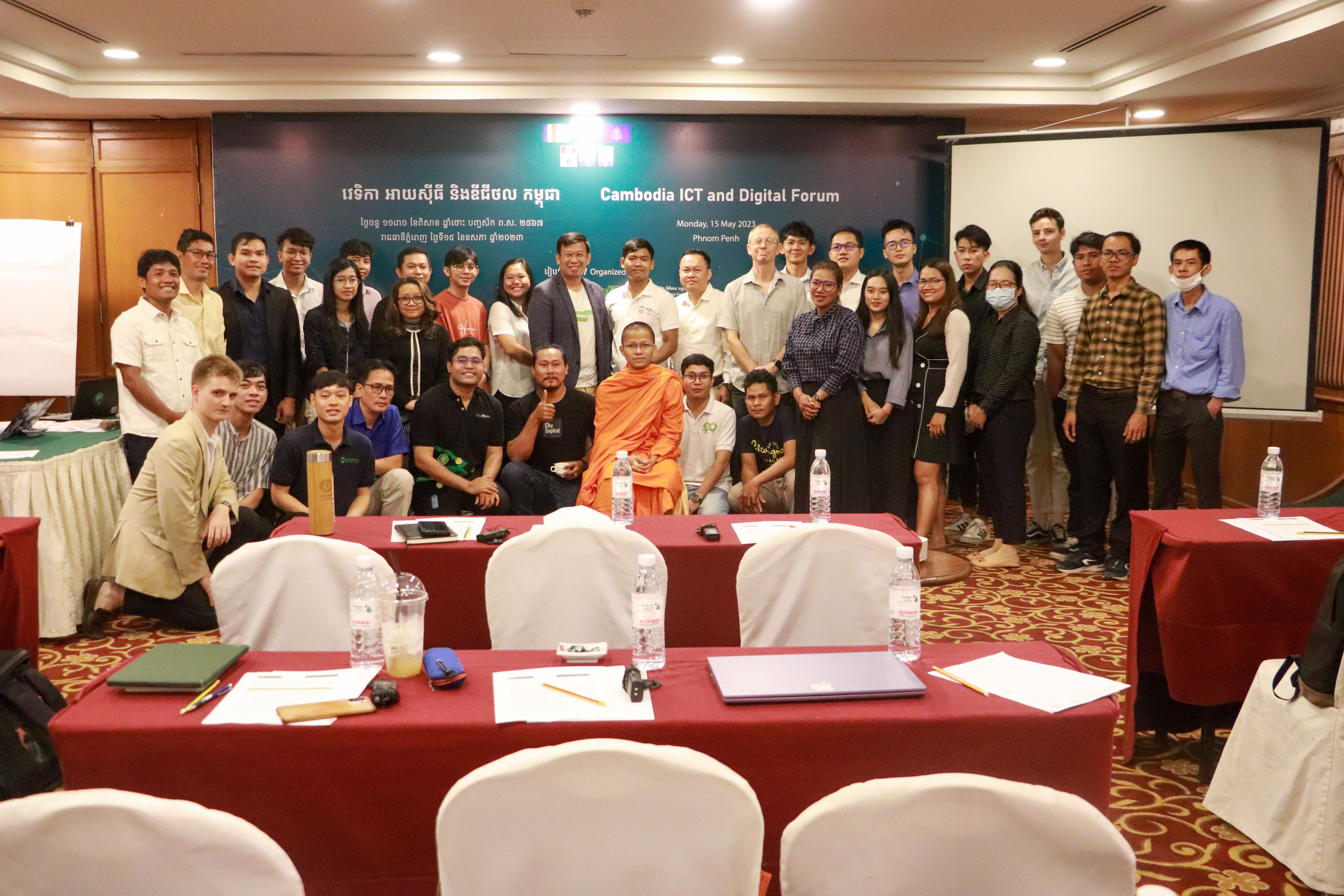 The fourth edition of the CamIDF aimed to share knowledge regarding the current digital trends in Cambodia, discuss copyright issues posed by AI and other technological tools and share opportunities with the CamIDF members regarding the Internet Governance Forum 2023.
Morning Session
The Fourth CamIDF started with a welcoming remark from Mr. THY Try, Executive Director/Editor-in-Chief of Open Development Cambodia (ODC). He reviewed the formation of CamIDF for all participants. He then asked the participants about their personal experiences using AI and ChatGPT, which was the main topic of discussion. He also addressed some concerns over the personal privacy of the ChatGPT and centered the dialogue around these new digital tools.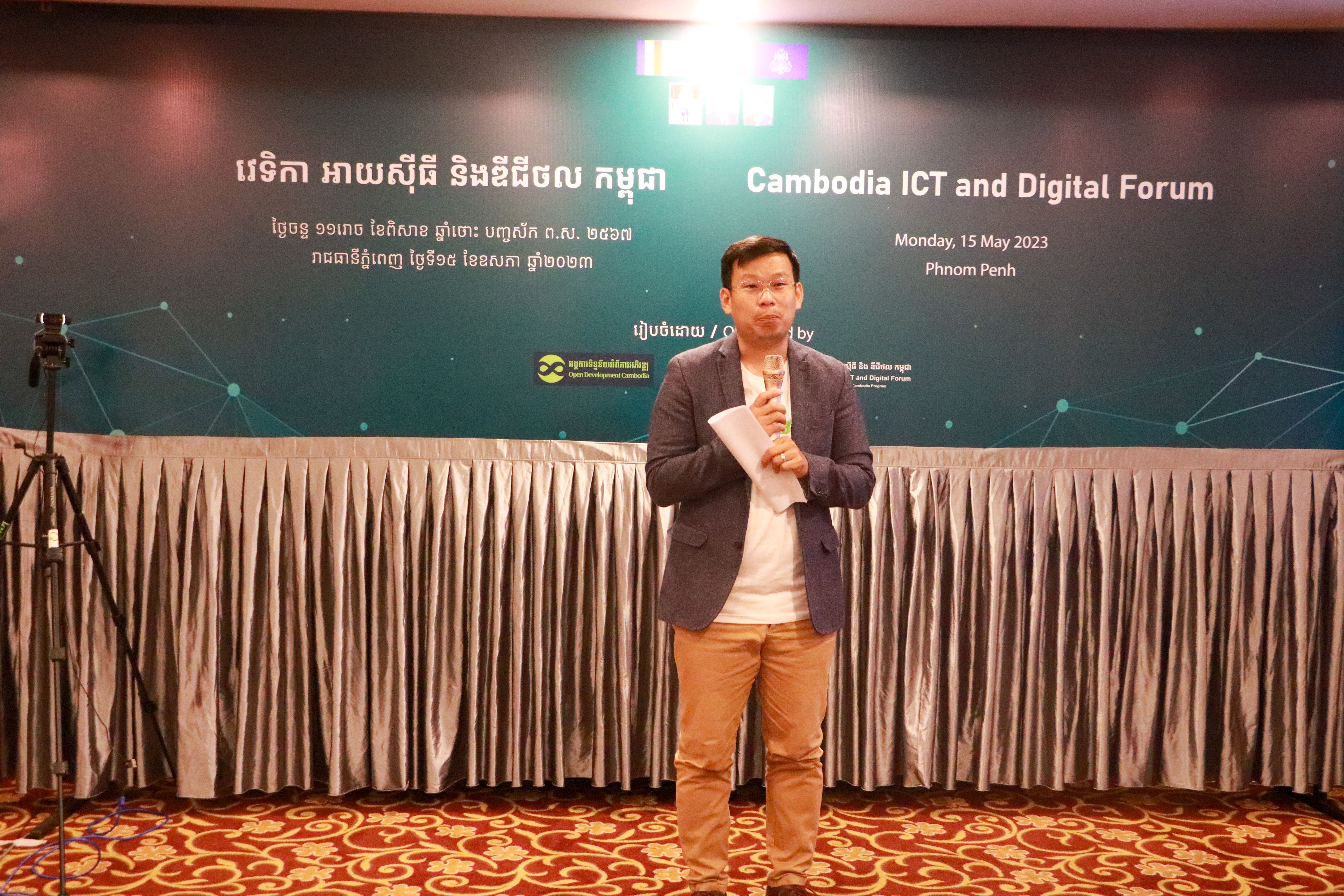 Following the welcoming remark, Ms. Pyrou CHUNG, a member of the CamIDF Advisory Committee, shared her opening remarks, which were surprisingly written by ChatGPT, as a test exercise. She added that the ChatGPT gave her some context related to the event and other detailed information. Ms. Chung reviewed the origins of AI and observed that AI could help reduce the workload in this digital world. She has addressed her concerns about regulating copyright issues and noted that there are no laws to deal with this issue in the Cambodian context yet. Ms. Chung concluded by reviewing the discussion about the design of institutions and law and how people can adapt to a post-AI world.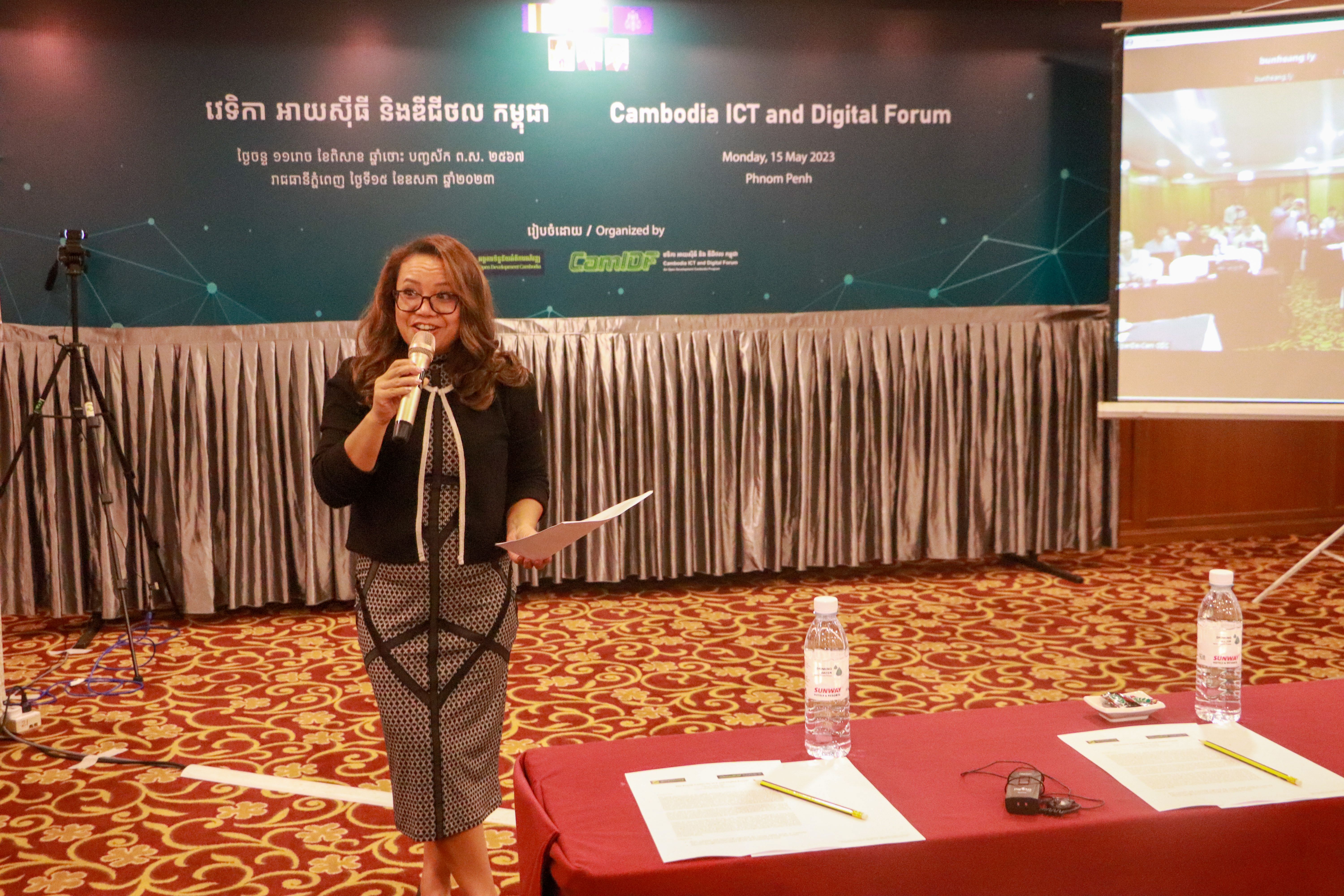 Watch the highlight video: https://youtu.be/CKmGDn-RVso
ODC Communications Manager Mr. NGOV Chihor shared an overview of CamIDF. Currently, CamIDF has 56 individual and 2 organizational members, mostly the previous participants of the Cambodia ICT Camp 2018 and 2022. He also shared about achievements of the previous Forum, which included the discussion of Cambodia's Digital Economy and Society Framework, digital government and its related regulatory framework, and travel grants for the CamIDF members to attend regional and global events. Mr. Chihor said CamIDF had supported the members to attend the Paris Peace Forum 2022 and the WordCamp Asia 2023.
After that, Mr. Tepken Vannkorn, a member of CamIDF, shared his experience attending WordCamp Asia 2023. He mentioned that the event provided an opportunity to experience and engage in a safe space for WordPress users to get to know one another. He stressed that without the support from CamIDF, he would not be able to attend this important event.
The following session saw Poren CHIANG, a Digital Law Researcher and member of the CamIDF Advisory Committee, sharing key takeaways on Copyright Issues Amid the Development of Artificial Intelligence. Poren noted that AI and ChatGPT had gathered the data to answer or generate what that user asked them to do. AI companies gather data, train AIs, get all user input, and the AI generates answers. Poren continued that the user might have used that data to make a poster or to create a song sung by AI voice actors. Concerning copyright issues, Poren mentioned that some people, including writers and artists, have shared common concerns regarding using their works without permission. Poren also highlighted the legal data gathering for the AI training, including fair use of data scraping and proper use of user-deposit data and personal information. Regarding the copyright violation, the speaker mentioned that an unlicensed code that fails to follow FLOSS license terms could constitute a copyright violation. Poren also warned that training data might contain personal information and/or individual faces.
Panel Discussion: AI and ChatGPT, Opportunity and Challenges
The panel discussion was one of the more engaging sessions of the fourth CamIDF. This session featured research and digital security experts collaborating to share their knowledge on this emerging digital trend. Mr. Kohei KURIHARA, Director of the Privacy by Design Lab based in Japan, began by providing his insight into ChatGPT and its advantages. He also urges the participants to consider the transparency of OpenAI, the parent company of ChatGPT, in using peoples' data.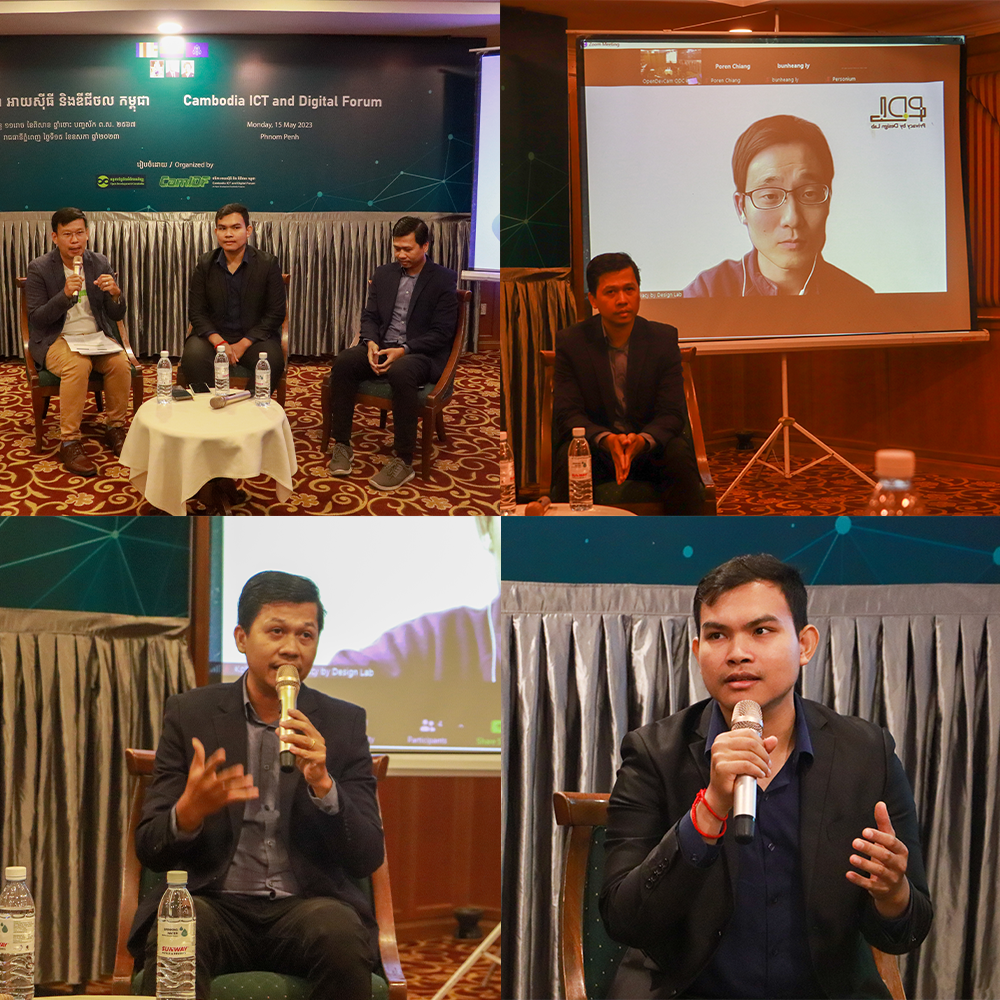 Another speaker, Mr. Heng Soklay, a researcher at the Cambodia Academy of Digital Technology (CADT), provided an overview of ChatGPT and how this tool answers users' questions. He also observed that ChatGPT had some flaws as it was not current. Mr. Soklay gave an example that if he were an English lecturer, he could use ChatGPT to help generate a quiz and lesson plan for this work. He believed Cambodian society still has opportunities to utilize AI tools to foster digital development. The speaker suggested there should not be prohibitions regarding the use of new technological tools, as limiting the growth of digital tools in the Cambodian context may impact the digital literacy of the citizens and slow down the implementation of the digitalization process of society.
Looking from the digital security lens, Digital Security consultant Mr. NGETH Moses warned that using ChatGPT to facilitate an organization's workflow properly assesses the impact on people and institutions. Additionally, the new technology must be accessed to see its benefits and the issues it may bring before using it at an organizational level. Mr. Moses claimed he had gained much knowledge from ChatGPT but urged the participants to use this tool with proper digital security considerations. He added that ChatGPT could be used to write a contract or other legal documents, but other security aspects, including copyright, data protection, and personal privacy breaches, must be considered.
One of the participants asked the speaker whether or not the AI tools and ChatGPT could affect or accelerate the business sector and whether the AI tools will replace humans in some areas in the future.
The speaker responded that using AI tools will accelerate the country's economy by reducing work and saving time and budgets for the private sector and start-ups in running their businesses. The speakers then encouraged businesses and start-ups to explore AI tools to assist them, leveraging the market opportunity by generating marketing content and writing reports. The speakers also encouraged young people to maximize the use of technological tools to keep up with current and future global digital trends.
They continued, noting that AI tools and chatbots have increasingly impacted businesses and the private sector globally. The use of automation and digital technology not only accelerates business growth but also helps business owners save time and resources. The utilization of ChatGPT will see a large-scale change in the user experiences with business in the future, allowing customers to experience accurate real-time responses generated by AI. ChatGPT, a cutting-edge innovation, can generate automatic responses with acceptable answers and background information. Other major impacts that the private sector may experience in the long run include data entry, ensuring data accuracy, and scheduling meetings and messages.
Another participant raised a question about having laws and regulations to monitor and regulate emerging technology and whether existing laws, such as the National Internet Gateway, could prevent the risks posed by AI tools.
The expert responded that the National Internet Gateway had other purposes and means to control and monitor internet flow. He added that if the government views ChatGPT as not good, they can block the domain name of their website, but it is still accessible by using VPN. "You can block the domain name, but people will always find a way to look at it."
The discussion concluded with the speakers encouraging the participants to use new digital tools and innovation to boost their understanding and catch up with other countries' digital development.
Afternoon Section
The afternoon section started with Ms. Pyrou CHUNG's presentation on Digital Identity. She suggested that identity might apply to any entity, including organizations and things. Digital identity, on the other hand, basically defines someone as a person but in a digital format with the digital characteristics and credentials for the digital economy.
She noted that digital identity had two major components. One is identity proofing and enrolment, allowing people to access information, get an education, and find jobs. The second is online protection, referring to the rights to protection when it comes to digital threats.
The speaker continued that digital identity is being used against people in some circumstances regarding collective and mass discrimination. Pyrou stated that to prevent digital harm in digital identity systems, including (1) Political harm: self-manipulation, identity, and democracy; (2) Economic and socio-cultural harm: fragmentation of identity; (3) Digital efficiency: how digital technology is actually used, increases harm to people; (4) Environmentalism; and (5) Legalized identity.
The final program of the fourth Forum was a presentation by Mr. NGOV Chihor about an opportunity for CamIDF members eligible to apply for a travel grant to participate in Internet Governance Forum 2023 in Kyoto, Japan. The speaker encouraged all participants to apply for this travel grant as it is a part of the benefits that the members of the CamIDF would get. He also mentioned that non-member participants can register to be a member first before applying for the travel grant.
The fourth Cambodia ICT and Digital Forum concluded with a closing remark from Ms. Pyrou CHUNG. During her speech, she asked participants about their impressions of the event. One of the participants expressed his satisfaction with the topic of ChatGPT as it broadened his knowledge and could be used in his daily work. Another participant observed that AI is a hot topic and that she was interested in AI and ChatGPT. Ms. CHUNG concluded that she encouraged all participants to consider the new technology's ethics, rights, responsibilities, and values.